Tank cleaning and product reprocessing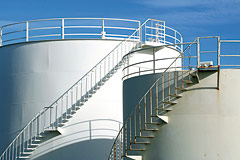 ITCS is supplying tank cleaning and oil reprocessing services, with 2 independent NME equipments! This way ITCS is in the position to run two projects in the same time, that is unique in the European market. With further executive partners ITCS can run a third project in the same time, with the same crew.. The Main benefit of oil reprocessing (sludge treatment) is that, beside the customer receive an empty and clean tank on the end of the process, also receive the 99% of the bottom sludge as refineable crude oil. The quality requirement of the crude oil is differing client by client. The flexibility of the technology can assure basically all kind of specification, the quality of the oil is only depending of the possible downtime of the tank to be treated. The major financial benefit of the technology is the fact that the process is self-financing or positive return on investment, as the process liberates the passive value (sludge) and reprocesses it into refineable crude oil ready to process or trade purposes. Further financial benefit of the technology is the fact that the customer doesn't need to demolish the sludge as a hazardous waste. The environmental benefit of the process is also the fact that the customer does not need to demolish the sludge, beside the entire process is working in a closed cycle. The human safety benefit of the technology is the supplier avoids having personnel working in high risk ambient, and avoids having people in the tank.
Benefits
The main benefits of our Automated Tank Cleaning Services are :
Short cleaning periods, reduction of cleaning time up to 80% (relative to the existing Automated Technologies)
Highest safety, as nobody need to enter the tank
Oil recovery rates of 85-99%
Environmentally friendly, minimal waste (5- 15%), thereby minimal disposal cost
Minimised CO2 emissions related to cleaning BS&W below 3%
Maximum oil content of the residual material to be burnt: 50% by weight
Value of reprocessed oil is covering the project costs above 400m3 of sludge
Reliability Business profitability depends on efficient plant operations
Operations totally depends on timely, efficient and cost effective maintenance practices
Maintenance typically operates with restricted budgets.
Specially those allocated for tank cleaning
The no man entry process allows to achieve:
Efficient performance
Time line assessments
Cut maintenance costs
Budget assessment
Time schedule example for a 50.000 m3 floating roof Crude Oil Tank with 1.500 m3 sludge
Hook-up: 3-4 days
Process: 14-20 days
Hook-down: 3-4 days
Safety
Safety, a common denominator for all customers
ATEX equipment
Upgraded and safe operational procedures
Reduced operating staff: skilled and experienced operators
Tank cleaning process technologically monitored for an increased safety
Fully certified to safely operate hardware in explosive environments
Fully certified to comply with international HSE standards